Turbocharged Testing for Your Automotive Embedded Software to Meet MISRA and ISO 26262 Standards
Competition in the automotive industry is intense. Successful companies must constantly innovate by introducing new features, many of which contain significant amounts of software. The automobile was transformed from a primarily mechanical device, into an integrated machine with embedded software in all major systems including: engine control, power train, suspension, braking, and entertainment.
Controlling cost of automotive embedded systems is extremely important for automotive industry suppliers since you have much higher volume than other safety-critical industries like avionics. Software testing has traditionally been very expensive, but the cost of finding software bugs now versus the direct costs and damaged product branding associated with recalls makes thorough testing a necessity in the automotive industry.
Automotive Software Verification and Validation Standards
ISO 26262 and MISRA are the two software standards applying to verification and validation of vehicle based software.
ISO 26262 is a Functional Safety standard currently under development, titled "Road vehicles -- Functional safety". The standard is an adaptation of the Functional Safety standard IEC 61508 for Automotive Electric/Electronic Systems. Part 6 of this standard addresses the recommendations for software testing and verification as part of the standard for software development.
Recommended activities include both unit level and system level testing such as functional tests (requirement-based tests and partition tests) and structural coverage tests.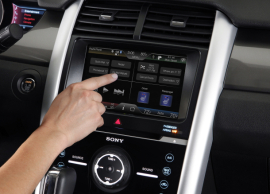 Green Hills Software offers solutions for the development of all the major subsystems of automotive electronics. From powertrain to body and chassis to high end infotainment, Green Hills Software offers integrated solutions to meet the demanding needs of car manufacturers.
The Green Hills Platform for Automotive Infotainment provides a solid base for developing in-car infotainment and telematics systems. The Platform is available with the INTEGRITY RTOS or the µ-velOSity real-time microkernel.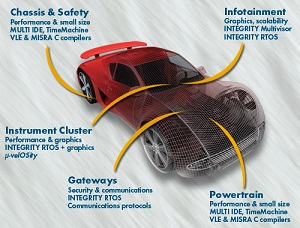 The Green Hills Platform for Automotive Infotainment also supports a broad range of middleware including 2D and 3D graphics, Global Positioning System (GPS), navigation, text-to-speech, Bluetooth, voice processing, CD and MP3 decoding, internet and wireless LAN, Media Oriented System Transport (MOST), Controller Area Network (CAN), and USB. The INTEGRITY kernel is IEC 61508 (SIL3) certified and has been chosen by multiple tier 1 suppliers of high volume infotainment systems.
For chassis and powertrain software development, the MULTI Integrated Development Environment (IDE) provides state of the art compilers, debuggers, simulators, and profiling tools, optionally available with a tightly integrated UML 2.0 solution. Green Hills compilers are used to build AUTOSAR RTOSes and applications, as well as several OSEK RTOSes. The compiler has a built-in MISRA C rules checker that can be customized. MULTI also provides leading debug technology, which includes the TimeMachine suite for advanced trace analysis, including code optimization, validation and debugging.